Nichlas Schaal
Nichlas is the music director at St. Anthony Catholic Community in Tigard, OR.  He is a native Oregonian, raised in Eugene.  He has been working in liturgical music for over 20 years, as an accompanist, worship leader, and music director.  He composes both liturgical and non-liturgical music, and his music is successfully used in churches all along the West Coast.  He studied Film Composition and received his Bachelor's degree in Music from Berklee College in Boston, MA.

"I started my musical life studying classical piano. As a church going catholic, it did not take long for my local music director to find me a place in his ministry. I immediately fell in love with liturgical music and its important role in the Eucharistic celebration and Catholic life. Music was the door that brought the faith alive for me. I truly believe that I do much more than perform at church. I am a servant, along with many other servants doing our humble best to bring people closer to the mysteries of our faith. This task of liturgical musician requires music that has sound texts, beautiful/singable music, and effective arrangements. I have been working in liturgical music for over 18 years and have learned so much. I have no favorite style of music and have seen the importance and beauty of the great wealth of music our faith tradition has to offer. My favorite liturgical celebrations have incorporated chant, contemporary praise music, and hymns with all types of musicians, singers, and soloists. We live in a diverse church and our music needs to reflect that diversity. I also know that the volunteer choir, as well as the congregation, is a place of many different skill levels. It is crucial that we do our best to include as many people as possible. Through our song selections and arrangements, we should be able to create an environment that truly encompasses the call of the II Vatican Council to 'full, conscience, and active participation.'"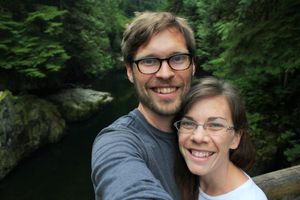 Joelle Schaal
Joelle was raised in Alexandria, Virginia.  She has been involved in music ministry since joining the choir at her school in the 3rd grade.  She began cantoring masses in 5th grade and continued to be involved in music ministry her entire life.  She grew up in a home rich in music, learning to make up harmony lines before she even knew how to read notes.  She received her Bachelor of Music in music composition at Catholic University in Washington, DC and her Master of Music from Boston University in Boston, MA.  Nichlas and Joelle met doing music ministry together at the Newman Center at Boston University and have been doing music together ever since.  She currently volunteers at St. Anthony Catholic Church. Joelle also is on faculty at Portland Community College where she teaches Music Theory and Composition. 
"God has given me a gift of song, a gift that I can take no credit for.  I seek to return that gift each time I sing for church, funerals, weddings, adoration, or even a lullaby for my children.  I am so grateful for the gift of song and cannot imagine my life without it.  1 Cor 13:1 states "If I speak in human or angelic tongues but do not have love, I am a resounding gong or clashing cymbal."  I feel that when we do not invite God into our music, we are merely resounding gongs, missing the beauty of His gifts.  Let us invite Him into all our creative gifts and His voice will be with ours as we sing."

Joelle and Nichlas have four amazing children (so far) and continue to be amazed by the joy and wonder that the gift of children gives.